Norway in America - California
Post office names in USA and Canada with Norwegian origin.
Research by Hallvard Slettebø and Dag Henriksb&oslash.

This page was updated 10 May 2021


In the extreme West, Norwegian adventurers joined the California gold-seekers in the 1850s. Considerable numbers of Norwegians have established homes in California since about 1882.


Bradtmoore, CA
Bradtmoore, post office in San Diego Co., CA, established 1903 and named by and for the postmaster Kate (Kathrine) Bradt Moore. She was a direct descendent of Albert Andriessen Bradt who together with his brother Arent from Fredrikstad was among the first Norwegian immigrants to New Netherlands (New York) in 1637, and the founders of the Bradt family in America. The post office moved and changed name to Heber 1904; it is still in operation.


Konigsberg, CA
Konigsberg, mining town in Alpine Co., CA. Rich silver deposits were discovered here early in 1863; a mining town was established by Scandinavian miners and called Kongsberg after the silver mining town in Norway. The post office was established 1863 with the Germanized name Konigsberg and erroneously reported to be located in Washoe Co., NV. This was quickly corrected to Amador Co., CA and from 1864 it was in Alpine Co., CA. It soon became clear that there was more speculation than silver in the mines and most people left. The post office closed for two months summer of 1864 and changed name 1865 to Silver Mountain. Closed 1883 with mail to Silver Creek. LP 16-1.
John 'Snowshoe' Thompson (Jon Torsteinson Rui from Tinn, Norway) carried mail between Silver Mountain, CA and Genoa, NV from July 1870 to June 1874. Kleppen, Halvor: Snowshoe Thompson – Jon frå Tinn (2015).


Little Norway, CA
The Vade, CA post office in El Dorado Co. was established 1912 and named after Mrs Sierra Nevada 'Vade' Phillips. The name was changed to Little Norway 1961 for unknown reasons. This is a small community high up in the Sierra Nevada mountains in the direction of the famous Lake Tahoe resort, and possibly named by a previous owner. The site consisted of a few houses with motels, a small post office, a restaurant and a few rental cabins in the forest and mountain area close by. The post office was discontinued from 1986 and was replaced by a Community Post Office; probably closed down after the fire in 1989, and the whole place closed after a new fire in 1991. NFT 9/2000, NFT 1&5/2001, NN 3/2001.
John 'Snowshoe' Thompson passed these tracts when he carried mail over Sierra Nevada from 1856 onwards (see Thompson Carson Valley Express, CA/NV). The Echo Lake summer Rural Station of Vade also changed name 1961 to Echo Lake, summer R. Sta. of Little Norway. The station became a Community Post Office from 1977.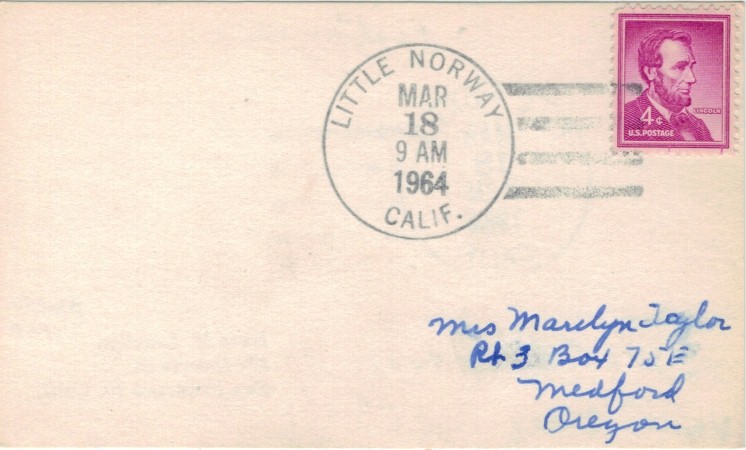 Sandberg, CA
Sandberg is the name of a post office and small surrounding community that was attached to The Sandberg Lodge (originally Sandberg's Summit Hotel), located on the Ridge Route highway in the Sierra Pelona Mountains of Los Angeles Co., CA. It is named for Harald Sandberg, a native of Norway, who settled in the Antelope Valley with his brother, Albert, in 1882. The Sandberg, CA post office operated from 1918 with Harald Sandberg first postmaster, and closed 1944 with mail to Lake Hughes. NFT 4/2016.


Sather Gate Station, Berkeley, CA
The Bancroft station, Berkeley, Alameda Co., CA was established 1924. Name-change to Sather Gate Station in 1934, and it is still in operation. It was named for Peder Sæther from Odal, Hedmark. Peder Sather (1810-1886) was a prominent Norwegian-born American banker who is best known for his legacy to the University of California, Berkeley. His widow, Jane K. Sather, donated money in his memory for two of the school's most famous landmarks. Sather Gate and Sather Tower, which is more commonly known as The Campanile, are both California Historical Landmarks which are registered National Register of Historic Places. NFT 3/2021.


Thompson's Carson Valley Express, CA/NV
Jon Torsteinsson Rui was born in Tinn, Telemark in 1827. He emigrated to America in 1837 and joined the gold rush in California in 1848. Jon Americanized his name to John Albert Thompson. He used skis and was nicknamed "Snowshoe" Thompson. In the winters 1856-1858, he crossed the Sierra Nevada mountains on skies to deliver mail between Placerville, California and Carson Valley, Utah Territory (later renamed Genoa, NV).
Thompson's Carson Valley Express was established 1857 and operated between Mokelumne Hill, CA and Carson Valley, UT, and later between Carson Valley and Strawberry Flat, CA. The express was probably in operation only for two or three years and two covers are recorded.
Thompson was also sub-contracted to carry the U.S. mails across the Sierra Nevada mountains during the winter seasons of 1857-1858 and 1858-1859. Kleppen, Halvor: Snowshoe Thompson – Jon frå Tinn (2015), NFT 1971 pp 171-172 and 201, LP 10-1 and 20-4, Risvold&Frajola: Across the Sierra Nevada Mountains by Snow-Shoe


Viking Station, Long Beach, CA
The Lakewood branch under the Long Beach, Los Angeles Co. post office opened 1949. Change to Lakewood station from Oct. 1,1953. Name-change 1958 to Viking (independent classified Station). Named for the Norse Vikings. The station is still in operation. Long Beach City College has 21 athletic programs for men and women, and the teams are known as the Vikings. The mascot is a Viking named Ole. The reason for the name is not known.


Not confirmed: Rossland, CA
Rossland, Tuolumne Co., CA, 1898-1898, five miles northwest of Jamestown. Postmaster Lemuel B. Sheafe.
FamilySearch has none with last name Rossland who can match, but there are several with last name Ross (none are Norwegian). Ross is also a given name. Tuolumne County had significant gold mining activity.
Perhaps named for Rossland, BC, Canada which boomed in the mid-1890s? It was named for Ross Thompson who established the town in 1892. From a mining camp of 50 men in the winter of 1890, the town had grown to a population of over 6,000 by 1897.