Norway in America - Illinois
Post office names in USA and Canada with Norwegian origin.
Research by Hallvard Slettebø and Dag Henriksb&oslash.

This page was updated 10 May 2021


Within a decade after organised immigration from Norway started in 1825, almost entirely toward the regions west of Lake Michigan. Most of the sloopers who first settled in Kendall, Orleans Co., NY migrated to Illinois in 1836 as a prelude to the main Norwegian settlement in America.
Bernadotte, IL
Bernadotte is a community located in Fulton Co., Illinois. When a post office was established here in 1833 it was known as Bennington. The reason remains a mystery, but Bennington was re-named Bernadotte in 1837. The House of Bernadotte is the royal house of Sweden since its foundation in 1818. It was also the royal house of Norway between 1818 and 1905. The post office was discontinued in 1905, superseded by R.D. from Ipava.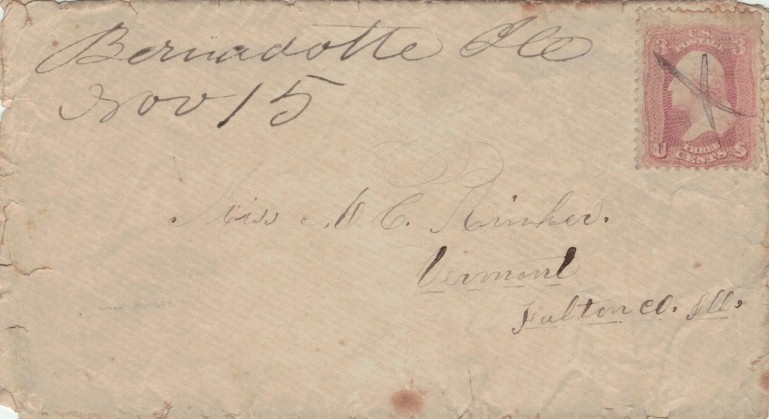 Halgisaw, IL
Halgisaw, post office in Boone Twp., Boone Co., IL. Halgisaw (also spelled Helgasaw) was named for one of the leaders of the group of Scandinavian settlers that arrived in the early 1840s. This was most likely Ole Helgeson, born 1821 in Telemark, Norway, came to this county in 1843. The post office opened 1860 with Samuel Latimer as postmaster. Name-change 1861 to Capron and it is still in operation.


Helmar, IL
Helmar is a populated place in Kendall Co., Illinois. The village of Helmar was platted 1899. It was first called North Prairie, but due to duplicate name, a vote was taken, and it was decided to name the village Helmar, in honour of Hjalmar Anderson, a Norwegian immigrant. The Helmar, IL post office was established 1894 with Michael S. Fries and discontinued 1912, superseded by R.D. from Newark. Lister 2017 exhibition catalog, NFT 7/2017.


Norway, IL
Norway is a community in LaSalle Co., Illinois, founded by Cleng Peerson in 1834 in the area known as the Fox River Settlement, and named for his home country. The village was the early centre of Norwegian immigration. The Mount Knickerbocker post office was established 1843 and changed name to Norway 1846. It closed 1906, superseded by R.D. from Sheridan. NFT 1/2019.


Odin, IL
Odin is a village in Marion Co., Illinois. It was named for Odin, the principal god of Norse mythology. There were Scandinavian settlers in the area. The Odin, IL post office opened in 1858 and it is still in operation. The population was 1,122 at the 2000 census. Odin R.F.D. was established 1900.


Stavanger, IL
Stavanger is a community in LaSalle Co., Illinois. It was named for Stavanger, Norway. The Stavanger, IL post office opened in 1887 with Zachariah Severson postmaster, and it closed 1903 with mail to Seneca. NFT 1/2019.